Feds offer three options for water cuts across Southwest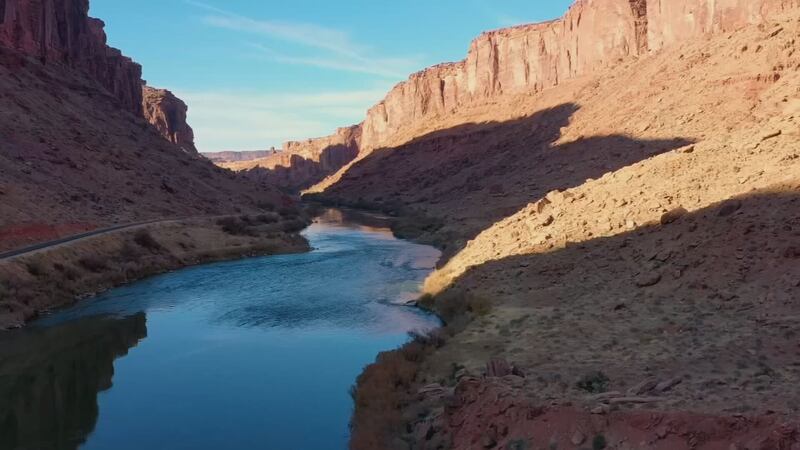 Published: Apr. 11, 2023 at 11:00 AM PDT
LAS VEGAS, Nev. (FOX5) - Federal officials outlined options for water usage cuts to Southern Nevada and the Southwest, all to preserve drinking water and power to communities sustained by the Glen Canyon and Hoover Dams.
The U.S. Bureau of Reclamation is on track to save two to four million acre-feet of water among the Southern member states of Arizona, Nevada, California, Mexico and tribal entities (A single acre-foot sustains 2.5 households in the Las Vegas Valley annually).
"The Colorado River Basin provides water for more than 40 million Americans. It fuels hydropower resources in eight states, supports agriculture and agricultural communities across the West, and is a crucial resource for 30 Tribal Nations. Failure is not an option," said Deputy Secretary Tommy Beaudreau. "Recognizing the severity of the worsening drought, the Biden-Harris administration is bringing every tool and every resource to bear through the President's Investing in America agenda to protect the stability and sustainability of the Colorado River System now and into the future." Beaudreau said.
At a press conference at the Hoover Dam, officials proposed three options:
· Do nothing, and risk the potential of reaching "deadpool," at which point water can no longer flow freely across the Colorado River system. Hoover Dam becomes inoperable at the lake level of 950 feet.
· Preserve senior water rights. California, as a senior member of the "Law of the River," would have seniority; major cities such as Las Vegas, Phoenix and Tucson would bear the brunt of the cuts. Farmers and tribal lands would also bear fewer cuts.
· Distribute cuts among member states equally.
Federal officials favored the third option, but acknowledged the possibility of a legal fight.
"Those paths have dire consequences in some cases, and may spur opposition or even litigation: unacceptable outcomes. Instead, let us accelerate our discussions in the Basin for a collaborative, consensus-based outcome," said Estevan López of the Bureau of Reclamation.
"It's my job to fight and make sure we don't take it on the chin," said John Entsminger of the Southern Nevada Water Authority.
More cuts are coming to Southern Nevada, but Entsminger said that current measures will soften the blow.
"We've always been planning for more cuts. I believe Southern Nevada is going to be safe under any circumstances," he said. "We have a solid plan in Nevada. We've been executing it for the last 20 years. We have a plan to execute it for the next 20 years. If we do that, we're going to be okay. We don't have to wait on other people to do the right thing to take care of our community," Entsminger said.
Entsminger said that members have 45 days to collaborate, and anticipates several other drafts before the Bureau makes a final decision, this summer.
More details were shared at a press conference Tuesday. You can watch the press conference below:
Copyright 2023 KVVU. All rights reserved.