Jon Jones returns to win UFC heavyweight title in 1st round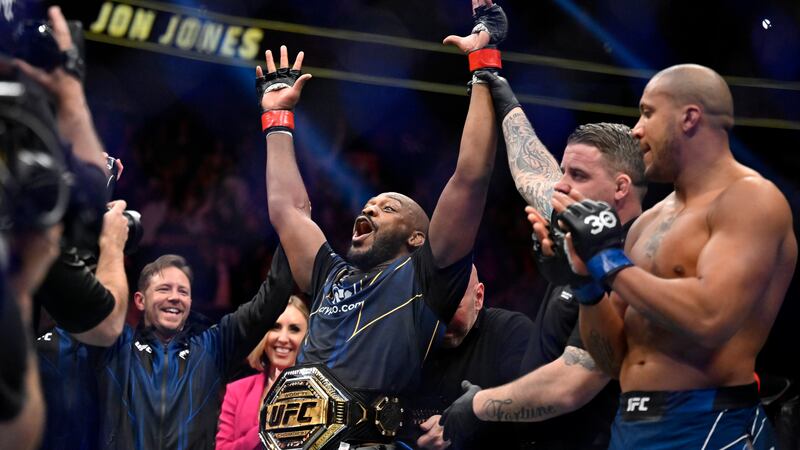 Published: Mar. 5, 2023 at 9:43 AM PST
LAS VEGAS (AP) — Jon Jones ended a three-year sabbatical from the UFC, moved up to its highest weight class and then left no doubt Saturday night about his place in the sport's history.
Already widely considered the greatest UFC fighter, the 35-year-old Jones took Ciryl Gane to the mat just a little more than a minute into the first round and won with a guillotine choke at 2:04 in UFC 285.
"I'm so excited," Jones said. "I've been working for this for a long time. A people thought I wasn't coming back. I've been faithful to my goal, faithful to my mission."
As short as the fight was, Jones made sure to take his time entering the octagon, playing up to the sold-out crowd of 19,471. UFC President Dana White said the gate was $12.5 million, the highest for a heavyweight match and the fourth-highest ever.
This was Jones' first fight in three years and his first in the heavyweight division. The former light heavyweight champion said it was important to cement in his own mind that he deserved the honor as the greatest ever.
With another GOAT, Tom Brady, sitting nearby, Jones did just that. Brady flew in the day of the fight from Florida and spent time with Jones' brother, Las Vegas Raiders defensive end Chandler Jones.
"(Jones is) a total freak of nature," White said, "and he's the best ever."
There were questions whether so much time off would affect Jones' effectiveness, and he spent time at his home in Albuquerque, New Mexico, to prepare for this night. His last fight was Feb. 8, 2020, a unanimous decision over Dominick Reyes.
Jones didn't look the same as did before taking the time off, and he acknowledged the extra weight he put on took away his muscle tone. All along, though, Jones insisted looks were deceiving.
He backed up his words.
"Ciryl Gane is a monster," White said. "Jon Jones showed up and treated him like a kid."
Jones believed the time away preparing for this night would show the step up in weight was worth it. He hired a team in Albuquerque to get him into optimal shape.
"I had to show up and get (Gane) down to the ground," Jones said. "I been wresting since I was 12 years old. I feel stronger than ever. Once I got him in my hands, I know I could take control."
The victory extended Jones' record unbeaten streak to 19 in a row, and he improved to 27-1 with one no-contest. He won a record 14 title fight at light heavyweight.
Jones said he next wants Stipe Miocic, who is the second-ranked contender and who Jones called the greatest heavyweight ever. White said that fight will take place, but didn't know when it would occur.
France's Gane, 32, was the top-ranked heavyweight contender. He dropped to 11-2.
"This one is so painful," Gane said. "This one is a win lost. So now this is past, and most of all for what I see is in the future. I'm going to go straight back to the gym."
In the co-main event in a women's bout, sixth-ranked Alexa Grasso (16-3) of Mexico submitted champion Valentina Shevchenko (23-4) Kyrgyzstan by 4:34 at of the fourth round to capture the belt. Grasso became the third Mexican champion.
"I feel like this is a dream," Grasso said. "I've dreamed of this moment."
Shevchenko, 34, had won her previous eight title matches and was in control of this one through three rounds by dictating the action and repeatedly taking Grasso to the floor.
Grasso, however, got Shevchenko to the mat late in the fourth when the now former champ went for a back kick. Then Grasso, 29, put Shevchenko in a position where she was forced to tap out.
Shevchenko said she wanted a rematch, but White wasn't sure it would happen.
Middleweight Bo Nickal, 27, won his UFC debut, submitting Jamie Pickett, 34 by arm triangle at 2:54 of the first round. Nickal won three NCAA wrestling championships at Penn State. He moved to 4-0 overall; Pickett is 13-9.
Scenes of the remake of 1989 movie "Road House" were shot in between action in the octagon with actor Jake Gyllenhaal portraying an MMA fighter.
Copyright 2023 Associated Pess. All rights reserved.