Vote to rid Nev. constitution of slavery moves to 2024 ballot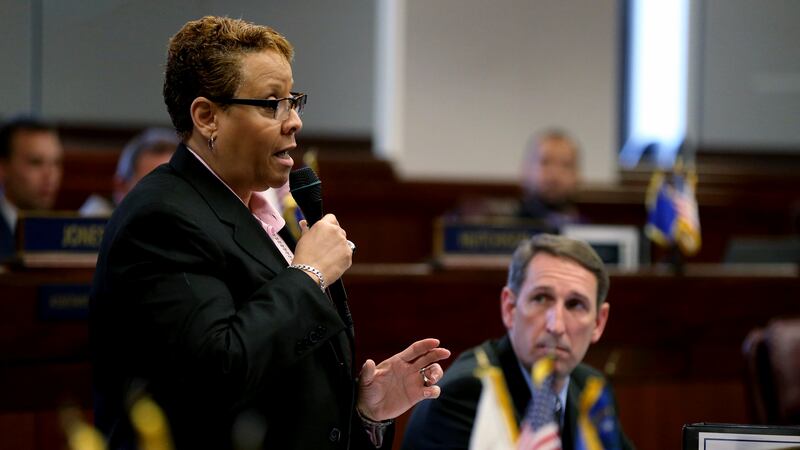 Published: Feb. 23, 2023 at 6:14 PM PST
CARSON CITY, Nev. (AP) — Nevada voters will decide whether to get rid of slavery and involuntary servitude as a form of criminal punishment from the state constitution on the 2024 ballot, part of a growing push among some states to scrub outdated, century-old language that has stayed on the books.
The Nevada Senate unanimously passed the joint resolution on Thursday after the assembly took similar steps last week. The proposed amendment first passed the Nevada Legislature in 2021, though ballot measures must survive two consecutive sessions before going to a vote of the people.
"I don't know that we have fully accepted this very painful past," said Democratic Sen. Pat Spearman of North Las Vegas, who co-sponsored the resolution. "And what you don't face, you can't fix."
Slavery and involuntary servitude are prohibited in the Nevada constitution "otherwise than in the punishment for crimes, whereof the party shall have been duly convicted." The 13th Amendment of the U.S. constitution has nearly identical language, spurring recent attempts by Democrats in Congress to scrub that language federally.
About a dozen states are pushing this year to get rid of slavery or involuntary servitude exceptions in their constitutions, according to the Abolish Slavery National Network. Some advocates said this has major legal implications today, particularly in litigation related to prison labor pay and conditions.
That language in more than a dozen state constitutions is one of the lasting legacies of chattel slavery in the United States, and the loophole gave way to other racist measures post-Civil War. This included "black codes" laws passed in the decade after the Civil War, which targeted Black people for benign interactions such as talking too loudly or not yielding on the sidewalk. Those targeted would end up in custody for these minor actions and often be forced into low or unpaid work.
Also, in some southern states, convict leasing was essentially a new form of slavery that started during the Reconstruction Era and went on for decades. States and companies made money from arresting mostly Black men and then leasing them to private railways, mines and plantations.
Colorado became the first state in recent years to revise its constitution in 2018 to ban slavery and involuntary servitude, followed by Utah and Nebraska in 2020.
Last fall, voters approved measures that scrubbed the language in Alabama, Oregon, Tennessee and Vermont.
California lawmakers are also considering putting the measure on the 2024 ballot. Last week, more than 40 supporters of the measure gathered in Sacramento, where lawmakers and formerly incarcerated people talked about the impacts of forced labor in prisons.
It's not uncommon for prisoners in California, Nevada and other states to be paid around $1 an hour to fight fires, clean prison cells, make license plates or do yard work at cemeteries.
The ACLU of Nevada is considering litigation related to the pay and working conditions of incarcerated women at prison firefighting camps — and the measure could protect people from "harmful, deadly conditions without being forced to labor for our sake," said Lilith Baran, the group's policy manager.
"This is not just a feel-good bill," Baran said in an interview last week after a hearing for the resolution. "This has actual, real implications on people's lives."
Democrats in Congress have not yet passed federal legislation changing the 13th Amendment of the U.S. Constitution. If the latest attempt wins approval in Congress, the constitutional amendment must be ratified by three-fourths of U.S. states.
Moments before Thursday's vote, Democratic Sen. Dallas Harris, of Las Vegas, another co-sponsor, took note of the federal language and ongoing attempts to rectify it.
"While we can remove this from our state constitution, it still remains in our federal constitution and I urge my colleagues in the federal government to make similar steps today."
She continued: "In the immortal words of Melissa Jefferson, better known as Lizzo, 'It's about damn time.'"
___
AP writer Sophie Austin contributed reporting from Sacramento. Stern and Austin are corps member for the Associated Press/Report for America Statehouse News Initiative. Report for America is a nonprofit national service program that places journalists in local newsrooms. Follow him on Twitter: @gabestern326.
Copyright 2023 KOLO. All rights reserved.