Republican Joe Lombardo sworn in as Nevada's 31st governor
Lombardo, 60, started as a police officer in Las Vegas in 1988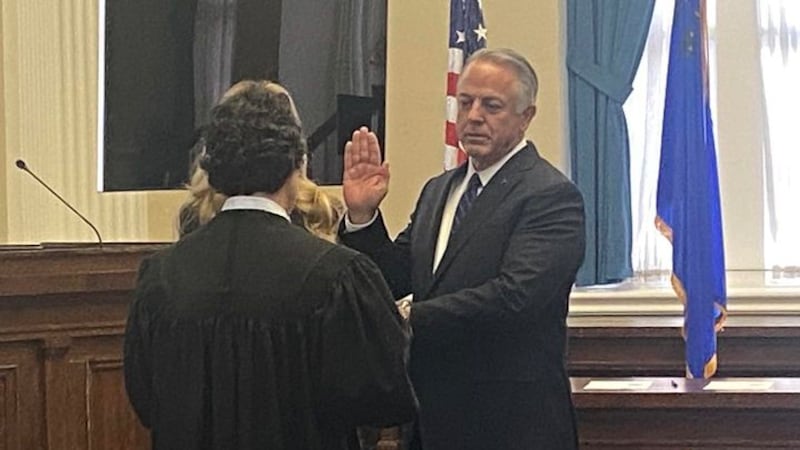 Published: Jan. 2, 2023 at 9:26 AM PST
CARSON CITY, Nev. (AP) - Former Clark County Sheriff Joe Lombardo became Nevada's 31st governor Monday, taking office on a vow to raise certain criminal penalties, diversify Nevada's economy and become America's "education governor," in part by promoting vouchers and replacing nonpunitive intervention measures in schools with discipline.
Lombardo's tenure will end four years of Democratic control in Carson City, where the party held the governor's office, as well as majorities in both chambers of the Legislature. Democrats will still hold a majority in the Nevada Senate and a supermajority in the Assembly.
The career police officer-turned-elected sheriff was the only Republican challenger to unseat a Democrat governor in last year's midterm cycle. The Nevada governor's ticket was one of several razor-thin statewide races in Nevada that saw a split-ticket outcome.
Lombardo replaces departing Gov. Steve Sisolak, whose one term marked the first time a Democrat held the office since 1999.
"Our victory is a victory for all Nevadans who want our state to get back on track," Lombardo said following his win in November.
His swearing-in took place quickly at the state Capitol — a formality, since Monday marked the deadline for his term to start. A more ceremonial event will take place Tuesday in Carson City.
Lombardo said he would repeal a 2019 bill that introduces restorative justice measures as alternative solutions for discipline, rather than suspensions or expulsions. He also has supported allowing trained teachers to carry firearms on campus as a way to improve school safety.
Like other Republicans, he also supports voucher programs that provide public money for students to attend private schools. He has said parents should have options besides "failing schools."
Nevada has long placed near the bottom of national education rankings. The Clark County School District — which includes Las Vegas — has 326,000 students and ranks fifth in size nationally while weathering staff shortages.
Lombardo's agenda also includes teacher raises of around 2% to 3%, consistent with the annual raise the Las Vegas Metropolitan Police Department receives annually. He has said the exact amount would be determined through budget negotiations.
To diversify Nevada's economy, Lombardo said he will ease business regulations, never raise taxes and eliminate what he considers bureaucratic overreach, along with focusing on workforce development and career training programs.
Lombardo, 60, started as a police officer in Las Vegas in 1988 and served two terms as Clark County sheriff.
As abortion became a major question after the overturn of Roe v. Wade, Lombardo said he looks at abortion through a "pro-life lens" but acknowledged that state law approved by a popular vote allows abortions up to 24 weeks. He later said he would fight against a national abortion ban if Congress were to pass one.
He at times came under fire for changing his stance on whether he would uphold Sisolak's executive order protecting out-of-state abortion patients and in-state abortion providers from outside prosecution, first saying that he would overturn it before eventually saying he would uphold it.
Former President Donald Trump's endorsement helped him emerge from a crowded GOP field to win the June primary, though he tried to distance himself from the former president during the general election before calling him the "the greatest president" during a rally in the rural town of Minden.
Copyright 2023 The Associated Press. All rights reserved.